Line Vibration
Line vibration can cause breaks or cracks in refrigerant lines as shown in the pictures below.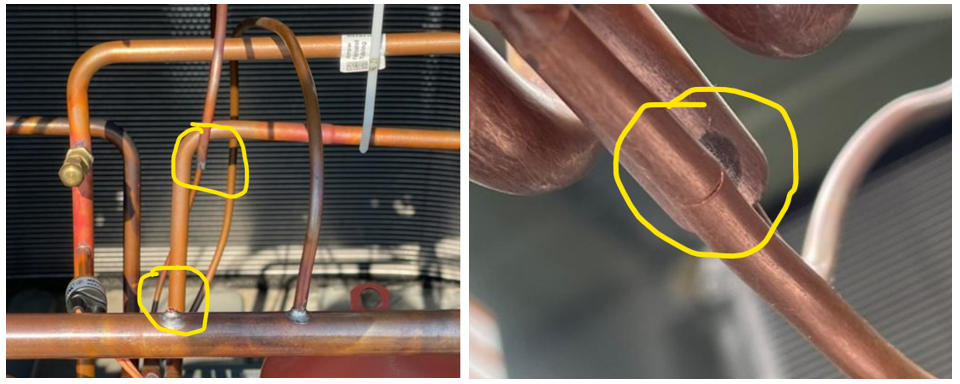 Things that can cause line vibration:
Loose compressor mounting bolts

Missing or deteriorated compressor mounting grommets

Compressor mounting grommets that are too soft  (Typical durometer should be in the range of 45-55)

Compressor slugging refrigerant due to low superheat

Refrigerant lines that are not secured properly

Refrigerant lines not fitting together properly or under a mechanical stress

Compressor internal mechanical issue

Refrigerant overcharge
How to correct line vibration
The easiest way to solve a line vibration issue is with a line weight.  The rule of thumb on line weight location is to put the line weight where the line seems to have maximum vibration.  A few Trane line weights with the Trane aftermarket part number are listed below.   If line weights are not available, then pretty much anything will work.  A piece of steel can be strapped onto a refrigerant line using hose clamps.  A typical line weight is about 2 lbs.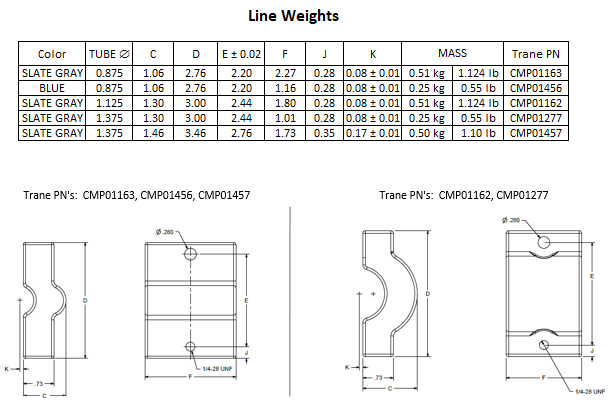 WARNING:
Information in this article is intended for use by individuals possessing adequate backgrounds of electrical and mechanical experience and who comply with all federal, state, and local laws, rules, orders, or regulations related to the installation, service, or repair of a heating or central air conditioning product. Any attempt to install, service, or repair a heating or central air conditioning product may result in personal injury and/or property damage. The manufacturer or seller cannot be responsible for the interpretation of the information contained herein, nor can it assume any liability in connection with its use.